September marks the transition from Summer to Autumn, a season of rich colours and ripe fruits. This is also the time when cider makers commence their harvests so to start your meal with us this month, why not try our seasonal special Moules au Cidre. Mussels simmered in Breton Cidre, smoked bacon lardons, crème fraîche and tarragon, creates a rich and delicious sauce. Our Bollée D'Armorique Breton cidre is full-flavoured, crisp and medium dry with an intriguing oaky taste, a perfect accompaniment to the moules.
Enjoy a complimentary glass of Baron de Marck Champagne when you order from our 10th Anniversary menu including 3 delicious courses of our favourite dishes from the last 10 years. All for the fantastic value of £27,95 available until the end of September.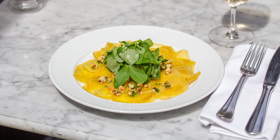 Golden Beetroot
For a delicious late summer flavour, start with our seasonal golden beetroot from our set menu. Thinly sliced marinated beetroot served with crème fresh dressing, hazelnuts and pea shoots. Bursting with colour and freshness.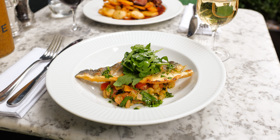 Roast Seabass
A bright and colourful dish as an addition to the September set menu. Our roasted seabass fillet is served with flageolet beans and a tomato, garlic and olive oil dressing. A wonderfully simple, yet truly delicious seasonal dish.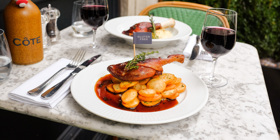 Duck Confit with Salardaise Potatoes
On our September specials menu try the delicious crispy confit duck leg, served with sautéed potatoes, ideal with a glass of 'Fleurie'. A wine packed with cranberry and raspberry flavours and a slight spiciness, it lends itself perfectly with Duck confit.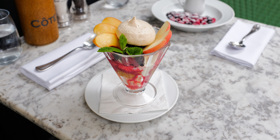 Seasonal Fruit Pavlova
To round off our specials this month, our seasonal fruit pavlova is full of with colour and flavour from the fresh peach, apple and berries all layered with chewy home-made meringues and thick Chantilly cream to create a decadent end to your meal.
Woolverstone House, 61 Berners St, London W1T 3NJ
Monday to Friday 8am - 11pm
Saturday 9am - 11pm
Sunday 9am - 10:30pm